Covid upended business and caused significant uncertainty for leaders across every industry. At the same time, people who have gotten the opportunity to become a leader amid these unprecedented times face a unique challenge. While getting this role gives them a chance to prove themselves as a leader, it's also a challenging situation to excel in.
This is especially true for women.The term "glass cliff" refers to a situation in which women are promoted to higher positions during times of crisis or duress, or during a recession when the chance of failure is more likely. Put simply, women in these situations are set up for failure.
And it's not just a phenomenon reserved for women; it happens with minority groups, too.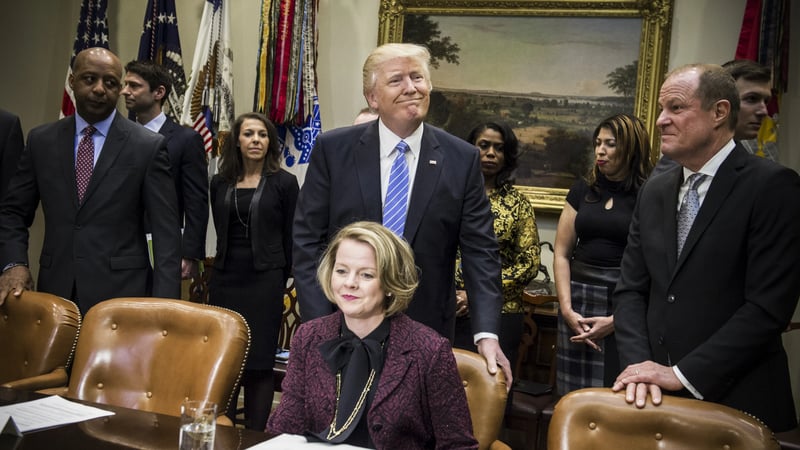 Companies are looking for new leadership styles and approaches. Research is pointing to empathy being the top leadership trait and women have the empathy advantage.
Ann Powell, chief human resources officer for biopharmaceutical giant Bristol Myers Squibb, told her virtual audience at a recent Innovation@Work conference held by The Economist that the pandemic has offered an opportunity for a new style of management: more open, more vulnerable, more aligned with reality.
Women rewrote the emotional rules in the workplace and showed the might of vulnerability.
McKinsey & Company and LeanIn.Org's Women in the Workplace 2021 survey of 423 organizations found that women leaders more consistently ensured manageable workloads for their teams, provided emotional support, and checked in on overall well-being than men, and 87 percent of companies called this labour critical.
Despite these challenges, some researchers and individuals also say that while it's easy for people to think of the concept of the glass cliff in an entirely negative light, it can also provide women with a significant opportunity to prove themselves as leaders.
"Women feel a great sense of purpose and a great level of commitment to the communities they're involved in perhaps in a different way than they think about their own career trajectory," Jane Stevenson, who heads CEO succession at search and consulting firm Korn Ferry. "Women are much more willing to take on a low-success probability situation because they felt maybe they were uniquely equipped to make a difference."
Leadership research says…
According to McKinsey's "Women in the Workplace 2021" report, while women's representation in leadership has increased across the talent pipeline since 2016, women are still significantly underrepresented in leadership. The report also found that women are more likely to have their competency questioned than men.
Imposter syndrome — when people feel inadequacy and self-doubt despite actual proof of their success — is more likely seen in women leaders than in their male counterparts, says Anna Tavis, clinical associate professor of human capital management at New York University.
Meanwhile, psychologist Tomas Chamorro-Premuzic finds that men are more likely to be narcissists than women. When narcissists are leaders, few mistakes prove a failure, no matter how many lawsuits or other negative consequences you experience — the opposite of women on the glass cliff, Tavis says.
She recalls an old mentor who noticed a trend in signs of imposter syndrome throughout coaching sessions, even in very accomplished, high-ranking leaders. While it's good that women are less likely to be narcissistic and more likely to own up to their mistakes, Tavis says, imposter syndrome or feelings of self-doubt can be a good area of focus as women work on developing leadership skills.
"As we develop women leaders, we need to strengthen their stamina, not to make them more narcissistic, but to make them more realistic and better understand where some destructive self-doubt hesitation comes from," she says.
She adds that as lip service continues to be given to the "firsts" of women leaders, women should also have access to tools to help them develop skills to "combat all the bad PR out there. The pressure is excruciating on those leaders."
The glass cliff in uncertain times
Korn Ferry put together a report last year on women CEOs based on interviews and analyses of 57 top executives. They found that women CEOs excelled in managing complexity and being perceived as inspirational.
When women do end up in a position to be at the glass cliff, it takes them longer to get there: Korn Ferry's research found that it took 33 percent longer for boards to choose a woman CEO than it did a man, and women CEOs are on average four years older than their men counterparts when they get their first assignments.
"But if a woman is put in that position, traditionally, they are not taken as seriously. People are afraid of the changes they want to make," she adds. "They must fight for their acceptance, to be understood [and] fight to be heard. It becomes a constant battle, and as a result, what happens is that very often [it] becomes exhausting and depleting." She says that this pressure is often why women step down from these positions, especially in trying times.
Gotian cites challenges in the leadership pipeline as one of the primary reasons that there aren't more women in the leadership pipeline to begin with. In the health care industry, for example, there are more women than men who enter the field, yet there are decidedly fewer women than men in senior roles, Gotian says. There are not many female mentors around for women who would like to be health care leaders, and male mentors often don't understand the nuances of being a woman in medicine.
Gaps in the leadership pipeline
Racioppi highlights a recent KPMG study which revealed that many CEOs are frustrated that they haven't achieved more gender parity in leadership. One of the significant obstacles they cite is what happens with front-line managers and other lower-level managers. These people, often men, haven't necessarily been coached on how to work with people who don't look like them. Additionally, white male leaders often can't see what women or people of colour go through in the workplace. As a result, barriers up the leadership pipeline start at the bottom of the latter.
She adds that L&D could provide the opportunity for managers like this to learn how to understand these barriers and better coach women in the leadership pipeline.
Beyond the opportunity to be mentored, another reason for the leadership gap is some of the requirements to be considered for a leadership role. People generally need particular leadership experience on cross-functional teams or committees to get these high-level leadership roles ultimately, Tavis says.
"That's where the problem lies," she says. "There is a built-in bias throughout the system, even though women are given opportunities to develop those leadership skills." For example, she says, many women who get on teams like this get a more secondary duty, and there is much less deliberate development of skills that help them become stronger, more holistic leaders.
How L&D develops women leaders
A common workplace experience for many women is that they find themselves stuck in a role they're good at but not passionate about, Racioppi says. As a result, they either end up leaving the organization or staying in their position and getting sidelined. A vital role the L&D department plays for women in this position is helping them realize what they're both passionate about and competent at.
"The first step is connecting clarity of purpose with your capabilities," she says. "How does my unique set of skills allow me to create an impact for my organization? [And how can I make] sure that it's aligned with my focus and purpose?" L&D has a critical role here in helping women and potential leaders gain clarity on their purpose, and where they should be focusing their time and attention, she adds.
Many types of L&D programs can benefit women and other underrepresented groups of people interested in leadership roles, Gotian says. Essential skills include learning how to listen effectively, how to get the whole team motivated, and how to mentor others. She adds that the key here is that it must be a continuous program. This is not a simple four-week course.
Gotian gives the example of a group of women anesthesiologists at her hospital called the Department of Anesthesiology Women's Mentoring Circle. Even though the anesthesiology field is generally male-dominated, women make up half the anesthesiology faculty at the hospital, and Gotian says the mentoring group has helped many women thrive in this field. People in this circle share resources, develop workshops and support each other.
"If one person wants to pursue something and doesn't know how to do it, there are other people they can call on," she says. "Because what might be my strength may be your challenge. And if you know it's my strength, you can come to me for help."
Reapproaching the pipeline
Tavis says there is a significant opportunity for L&D to develop women leaders and develop a more holistic pipeline.
"I think we need to change how the whole system is organized around who is at the top," she says. "And [we also need to] take into account the resistance and the biases that are standing in the way and how we will work against those."